Fishing Lure Lots-New, Old, Classic, Vintage Tackle
We often think of buying in lots as something reserved for wholesalers or stores, but this is not the case with new or vintage fishing lures! Ordinary consumers like us can purchase both old collectible lures and newer classic brands in quantity, often saving a bundle of money!
Fishing lure lots of all sizes, brands, years and condition are plentiful on eBay! This is a great way to buy artificial bait and save a bundle of money too!
With internet sites like eBay available to us today, fishing lure lots are quite common. If you are not yet an eBay member, I highly recommend signing up. It's super easy, fast and free! Many of the bargains on fishing tackle are quite incredible!
---
---
If you are new to the hobby of collecting old lures, buying in lots is a great way to jump-start your collection. You can sift through your find and learn the ins and outs of the many brands and models you'll find in your lot buys, saving the good ones along the way and eventually having a nice display
A few nice Luhr Jensen lure lots. Nice looking lots like these are often found on eBay!
Another great place to find fishing lure lots is garage sales, yard sales and estate sales. It is not uncommon for someone trying to rid their Grandpa's garage of 50 years worth of "stuff" to just put out entire tackle boxes of lures!
Lot finds like these are always welcome whether a collector or an avid angler!
This is where the gems are found amongst the clutter, often for just a few dollars. Look for rusted, dented, trashy looking steel boxes. Most people have no idea the value of the contents inside. Often they will leave discarded antique lure boxes which are sometimes worth more than the lures!
Everyone loves a bargain on Bagley & Smithwick lot lure deals!
It is also very common to find newer lures still in their boxes amongst these lot buys. Lures brands such as Helin or Bagley are still highly sought after by both collectors and avid anglers and can be purchased for a fraction of retail in a good lot find.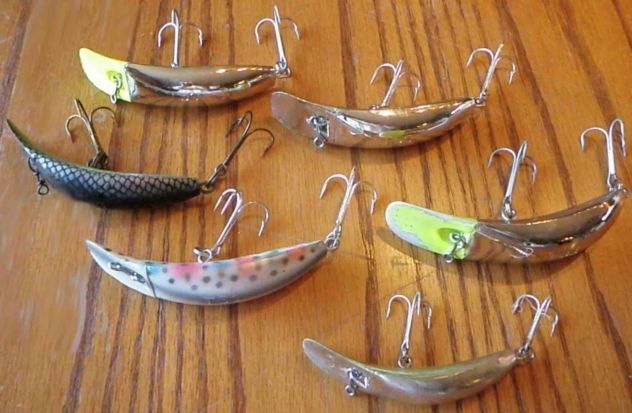 Incredible savings are easy to find on Helin lure lots, especially the Flatfish bait.
Another fantastic aspect of this method of buying is that you will often find very old lures in bad condition. The seller may think these classic collectibles are not worth anything because they are chipped and missing hooks & eyes ect.
---
Shopping for brand New Fishing Lure Lots on eBay can save you a bundle of money!
---
However, a collector seeking a specific glass eye, original hook or steel propeller for his antique lures can purchase the pieces he needs for a steal with a good lot find!
Rapala lure lots are very popular on eBay at huge savings!
Whether you are an avid angler seeking some new lures for your next outing or a hard core collector in need of a specific brand or piece of a "hard to find" lure, buying in lots can be a very cost effective way to enhance to your collection.