Vintage Creek Chub Fishing Lures
There is no question that Creek Chub is amongst the most sought after lure brand of vintage artificial bait tackle by collectors and hobbyists worldwide. You would be hard-pressed to find a display without at least a few classic Creek Chub fishing lures to show off.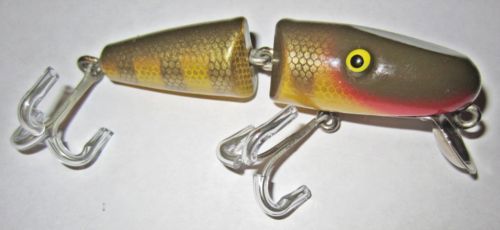 Vintage Creek Chub lures similar to these can often be found for $10-$20.
Being one of the first big bait & tackle companies in the USA, there are plenty of beautiful lures available, even today. Whether you are a hard core collector seeking that very rare piece to complete your collection, or a hobbyist just starting out, there is likely an old Creek Chub lure available that suits your needs and budget!
All of these classic Creek Chub lures sold for under $30 each on the internet!
The internet has made collecting these lures much easier today than it was just 2 decades ago. Lures are easily shipped safely and cheaply, making them a very appealing collectible to buy, sell or trade anywhere in the world!
---
---
While fishing is still a wildly popular outdoor sport today, it was just as popular at the turn of the century. It has always been an exciting sport to anglers from all generations, however, with the development and availability of artificial bait by companies like Creek Chub, interest in fishing exploded in the early 1900s.
These respectable Creek Chub vintage fishing lures were purchased for $35-$50 each.
Anglers of the time couldn't wait to get into town and try the latest lures, many of which were branded Creek Chub. The lures worked and the new designs and models sold like crazy! Many a fisherman had enough lures in his possession that several tackle boxes were needed to store them!
Today many of those old lures are valuable, collectible antiques. People today often stumble upon boxes of tackle tucked away in the attic or shed of a deceased friend or relative and list them on auction sites like eBay. They know it's "old" and has value, but generally they have no clue what it's worth. This is how the real bargains are found!
For $60-$80, vintage collectible Creek Chub fishing lures like these can be purchased.
Imagine finding an old CC Dingbat plug, a Pikie minnow or a Pike Scale River Rustler to add to your collection? Or a Rare Vintage 1925 Creek Chub Wooden Wiggle Fish in the original box? These types of lures are purchased everyday on the Internet, some at really low prices! It can happen for you too!
Highly sought after lures like these vintage Creek Chub collectibles are available but expect to pay over $100 for these beauties!
Whether you are seeking Creek Chub lures to fish with or need some additional model #'s for your collection or display, you'll find the sizes, colors and styles you need at many different price points. Buying in "Lots" can yield some good Creek Chub lures and is a great way to get started in this hobby without spending a fortune.