Vintage Heddon Fishing Lures
Some of the most prized collectible fishing lures on the planet have been produced by the Heddon company, one of the oldest bait & tackle names in the industry to establish itself in the USA.
If you haven't already added any vintage Heddon lures to your collection, it would be worth your time to take a look at some of these beauties. Just one quick glance and instantly one can see why this artificial bait is amongst some of the most sought after antique and vintage lure brands in the world.
These Heddon lures are highly collectible because of their scarcity, excellent condition or both!
Because of the huge success Heddon had in it's early years, there is still quite a bit of memorabilia available for hobbyists today. A few nice additions of classic Heddon lures will greatly enhance any display!
---
---
Ordinary "non-fishing" folks stumble upon old fishing tackle all the time. They find it in their inherited family house attics or when they are called upon to clean out their Granddaddy's attic or garage because of a move or house sale.
Heddon artificial bait like these samples are commonly found for under $20 on the internet.
Once this stuff is discovered, they are often overwhelmed with what to do with it. Rather than give it away or worse yet, throw it away, it gets listed on eBay or other online sites. When this happens, great finds at great savings occur for us collectors!
Imagine finding an antique Heddon Punkinseed, a new Crazy Crawler with the original box or a vintage mint condition Torpedo Lure? Finds like these happen on a dialy basis and it could happen for you!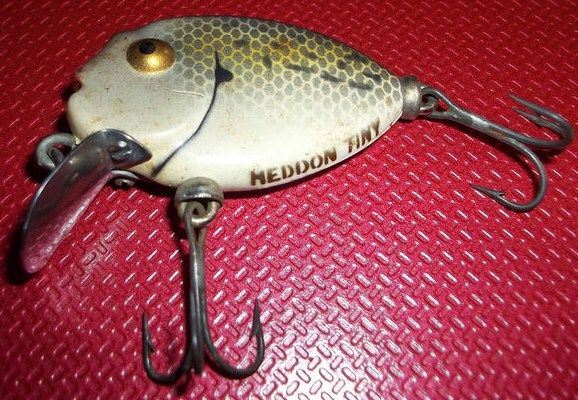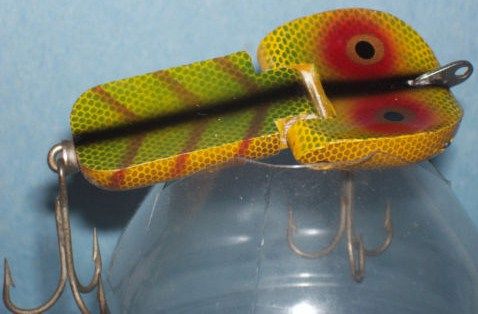 These Heddon lures recently sold for $25-$45 each on a popular internet auction site.
There's never been a better time in history for locating hard to find Heddon lures. The internet has made it quite possible to complete complicated collections or displays that just 15 or 20 years ago would likely take a lifetime of searching.
Whether you are a hard core vintage fishing lure collector needing some more Heddon pieces, or a hobbyist just starting out, you'll find the old Heddon merchandise you need that will fit your budget! There are Heddon lures available from very used condition, broken, fished a little and some are even NOS (new old stock) unopened and still in the original box!
A fine collection of Heddon fishing lures like these will likely cost you $50- $75 each.
Not all Heddon collectors are showcasing their hobby. Many are active fishermen who enjoy using classic, vintage bait. Finding cheap antique Heddon lures for your next fishing adventure is easy. Sure, you might have to touch up the lure a little bit, maybe add a new hook or eye. No, these lures will never be desired by collectors, but an unsuspecting fish will jump all over this tantalizing treat!
These Antique, vintage & classic Heddon lures would look pretty sweet in any collection!
Be sure to check out Heddon Lots when searching for lures. This is a great way to jump start a collection if you are new to this hobby or on a budget. It's also a great way to get parts cheap like glass eyes, propellers, lips or hooks and you never know when there might be a vintage Heddon gem hiding on the bottom of that lot pile!