Vintage Lures w Box-Packaging
Finding vintage lures in their original box to a collector can be like finding gold! While not as easy to find as the lures by themselves, there are old fishing lure boxes available out there, many with the original papers and tags.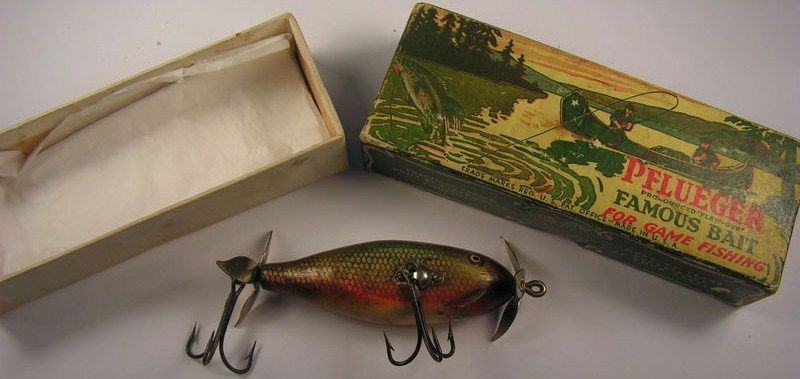 Some very nice collectible Heddon & Pflueger lures with original boxes.
Some of the greatest and rarest finds are the NOS (new old stock) that dealers run into. These pieces crop up every once in a while when an old hardware store or general merchandise store goes out of business or sells the practically abandoned building.
Names like Creek Chub, Shakespeare, Bagley and Arbogast can still be found w/ both lure & box.
When the new owner checks out the attic or basement there is often NOS sitting on the shelves and it is not uncommon to find antique fishing lures amongst the dusty clutter! For these types of lures you will need to prepare yourself to shell out a few bucks, as these collectible memorabilia pieces are the cream of the crop.
---
---
Often anglers of years gone bye would save their boxes or place them in a drawer or shelf of the garage or shed. These older boxes were thick and very durable, standing up to moisture and age.
Obscure lure brands can really bring a display to life, especially when you've got the box too!
Many of these finds are still in good display condition and can be purchased at very reasonable prices while still enhancing your display.
There's nothing like a lure collection surrounded by some well placed, original vintage boxes. The packaging of these old time lures can be as impressive as the artificial bait itself.
Strange, novel lures look great in a collection & the box can be as interesting as the bait!
The colors and beautiful graphics will immediately grab anyone's attention within eye-shot! I particularly like it when there is a price tag on the box if it's a product before the 1950's. That is always a good conversation starter.
Now is a great to start adding vintage lure bait in boxes to your collection!
You can find "just the box" auctions on eBay and you'll be surprised how many there are! If we want our displays to look good, we can't be too choosy about rare lures & boxes. Some lures are hard enough as it is to find. Boxes are far more challenging to find for some of the super old or hard to find lures.
"You can also find empty lure boxes on eBay to match your existing pieces!"
Finding a matching box for a lure you already have is a good way to complete the pair, so to speak. Many collectors have a separate section devoted to just empty lure boxes or packaging and it looks pretty impressive too!
Beauties like these are bought and sold everyday on the internet!
Whether you are a hard core collector or a hobbyist just starting out, you can find vintage & antique lures with their appropriate boxes or just the empty box at many price points. There's something for everybody in this hobby and people will take notice of your collection when you sprinkle some of this old lure packaging around your display area.